Our Actionable Genomics℠ Service Helps Personalize Medical Care
Imagine:
During your office visit, your physician writes a prescription for you on their computer. An alert pops up showing that a medication is likely not to work for you because of your genetics. Your physician changes you to a different medication.
You can make this happen today by enrolling in ActX's Actionable Genomics Service. Together with your physician, you can use the power of genetics to personalize your medical care.
Making genetic information available to both you and your physician can also help you take action to prevent or avoid serious health conditions. For example, for some cancers, the risk is hereditary, and if known, the affected person can receive early screening. An example of this is Lynch Syndrome, a hereditary form of colorectal cancer where early screening can make a big difference in treatment.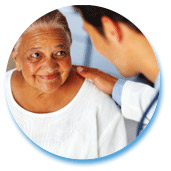 ActX's science team continuously updates the ActX KnowledgeBase, based on the latest medical studies. ActX stores your genetic data securely and privately, analyzing it using the ActX KnowledgeBase, and then providing it to your physician, usually within their electronic medical record. We frequently re-analyze your genetic data and your physician and you will be alerted if an important new issue is found. The Actionable Genomics Service is available to all the physicians who take care of you — once authorized, they can see genomic information in their electronic medical record or directly on a secure website.
As part of the Actionable Genomics Service, ActX offers an inexpensive way to obtain your genetic information for analysis. We send a saliva sample collection kit to your home — you spit a small amount of saliva into a tube and mail it to our CLIA-certified lab. We take it from there.
We provide both you and your physician with a genomic profile that has information about your genetics. Our focus is on genetic items that you or your physician can do something about.
If you have an HSA or FSA account, the Actionable Genomics Service can usually be used in conjunction with your account. Please note that your plan's administrator makes the final decisions on coverage, so HSA/FSA coverage cannot be guaranteed. Your HSA or FSA plan's debit card will be accepted on our payment processing screen.
Using ActX, among other features, your physician will be able to:
Run drug-genome interactions with alerts for side effects, efficacy and dosing.
Display clinically significant disease risks with suggestions for action.
Receive alerts if our updated KnowledgeBase finds a new serious risk. We continuously update our KnowledgeBase and frequently reanalyze your genetic information.
Some patients will prefer not to receive information on what their genomic risks are — for those patients we offer the ActX Pharmacogenomics Service, which includes only information on drug-genome interactions (it does include a few risks that affect medications).
Note: ActX is a screening service and not intended for the diagnosis of high risk patients.