ActX and Yale New Haven Health Jointly Present on Precision Medicine at the HIMSS 2018 Conference
Las Vegas, NV – Wednesday, March 7, 2018 –
Precision Medicine was a special focus at the 2018 HIMSS conference, with three sets of sessions on Precision Medicine. ActX CEO Andrew Ury, M.D. together with Wade Schulz, M.D., PhD, Senior Solutions Architect at Yale New Haven Health presented to a large HIMSS audience. The topic was
Applying Genomic Intelligence and Decision Support at the Point of Care
. Drs Ury and Schulz discussed the importance and practicality of integrating genomic decision support directly into the Electronic Health Record as well as the use of AI to select which patients to test. ActX's live Epic integration at Yale New Haven Health was used as a case study.
To learn more about the speakers, content and view the presentation handout click the link below to the HIMSS conference website:
http://www.himssconference.org/session/applying-genomic-intelligence-and-decision-support-point-care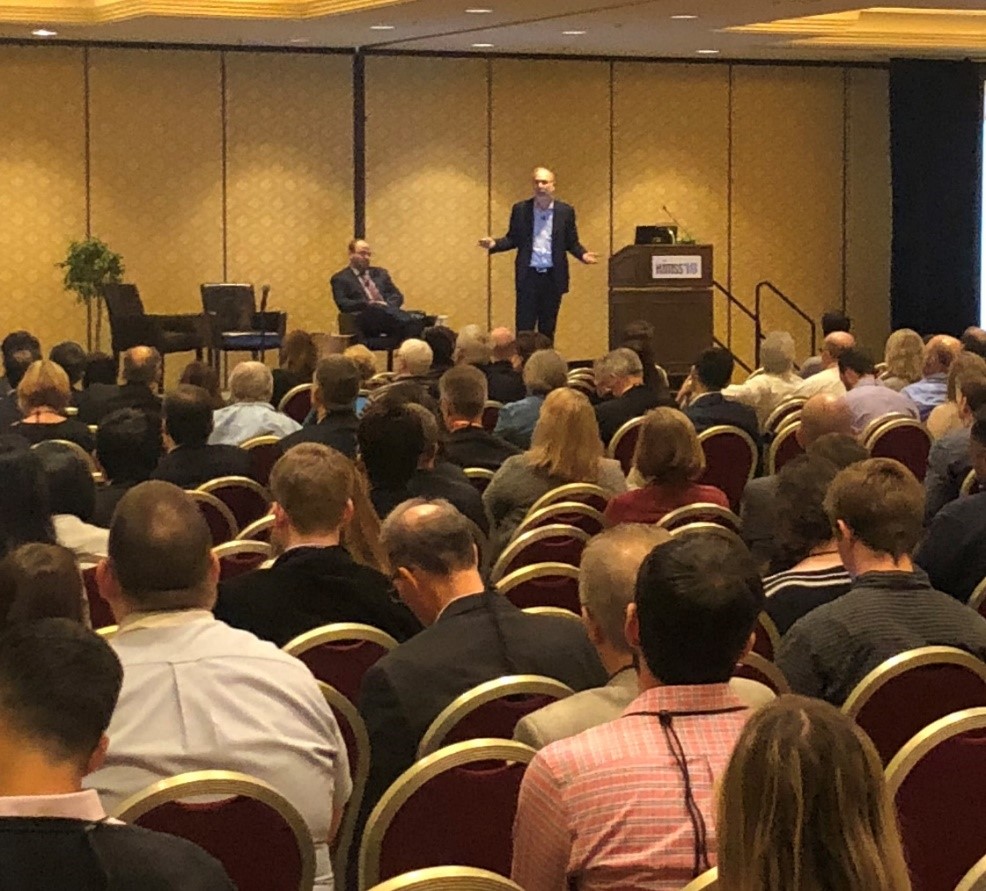 Dr. Andrew Ury, M.D., CEO ActX, Inc. speaks at HIMSS 2018
Contact Information:
Joe Sichel
Marketing Specialist
ActX, Inc.
joe.sichel@actX.com
(888) 998-2289
ActX is the industry leader in EHR-integrated Precision Medicine. Our service helps physicians make better decisions about medical treatment, using a patient's genetic information to guide therapy. Integrated into a physician's electronic health record workflow, ActX analyzes the patient's genetic information in real time. To take the next step toward Precision Medicine, visit
www.actx.com
, email
info@actx.com
or call 888-998-2289.
About Yale New Haven Health:
A leading integrated delivery system with five hospitals and a Physician management group comprising the largest health system in Connecticut. Yale New Haven Hospital (YNHH) is a non-profit, 1,541-bed tertiary academic medical center receiving national and international referrals. Yale New Haven Hospital includes Smilow Cancer Hospital, Yale New Haven Children's Hospital and Yale New Haven Psychiatric Hospital. Bridgeport Hospital has 383 licensed beds plus 42 beds licensed under Yale New Haven Children's Hospital. Greenwich Hospital is a 206-bed regional hospital, serving Fairfield County, Connecticut and Westchester County, New York. All three hospitals are a major academic affiliate of Yale University School of Medicine. Laurence + Memorial Hospital is a 280 bed regional hospital located in the eastern part of CT, Westerly Hospital is a 60 bed hospital serving the western shoreline of RI, Northeast Medical Group (NEMG), is a physician group affiliated with YNHHS. NEMG includes community physicians in Fairfield and New Haven counties in Connecticut, as well as Westchester County, NY.
About the HIMSS Conference:
The 2018 HIMSS Conference & Exhibition, March 5–9, 2018 in Las Vegas, brings together 45,000+ professionals from around the world for five days of education, innovation and collaboration to help uncover the promise of health information and technology. No other conference brings you the world-class education, cutting-edge products and solutions, and unique networking opportunities you need to solve your biggest health information and technology challenges – all at one time, all in one place. Choose from 300+ education sessions, 1,300+ vendors, hundreds of special programs, and endless networking events. HIMSS18: Where the World Connects for Health.